Author: Wendy Tolmie
i
Have you ever been so full of thankfulness to God that you burst out in a song of praise? I have been bursting with a joyful song of praise to our God! Lately, I have been seeing and reflecting on the wonderful works of God in and through His church.
The value of a song-What does the bible say about singing?
We are encouraged in Psalm 96 to "Sing unto the Lord." As followers of Jesus, we want to sing to Him out of our love and gratitude to Him (Ps 28:7, 30:12). God is worthy of our praise!
When we sing to Him, we are declaring who God is:
His greatness, His glory, His majesty, His wonders (Ps 105:2), His salvation (1 Chron 16:23), His forgiveness (Ps 51:14), His love (Ps 101:1), His justice (Ps 67:4), His strength (Ps 59:16), His faithfulness (Ps 89:1) and His protection (Ps 95:1-2).
Singing declares our trust in God and our need for God. Consider how Paul and Silas responded when they experienced persecution. They sang.
 About midnight, Paul and Silas were praying and singing hymns to God, and the other prisoners were listening to them. Suddenly there was such a violent earthquake that the foundations of the prison were shaken. At once, all the prison doors flew open, and everyone's chains came loose[i]
From Exodus to Revelation, songs of praise and victory have been sung. Here are a few examples
The Song of Moses
The song of Moses is a song of deliverance! Moses and the people of Israel sang a song of praise to the Lord for His victory over their enemies. He had delivered them, saved them, and redeemed them! He gave strength and victory to Moses. God is praised for who He is and what He has done-glorious in holiness, awesome in splendor, performing great wonders, leading with unfailing love (Ex 15:1-19)
Then Moses and the people of Israel sang this song to the Lord:
"I will sing to the Lord,
for He has triumphed gloriously;
He has hurled both horse and rider
into the sea.
The Lord is my strength and my song;
He has given me victory.
This is my God, and I will praise Him—
my father's God, and I will exalt Him! (Ex 15:1-2 NLT)
The Song of Deborah
The song of Deborah is a song of victory! This song glorifies God for His victory over Sisera and the Canaanites. You can read this song in Judges 5:1-32.
On that day Deborah and Barak son of Abinoam sang this song:
"Israel's leaders took charge,
and the people gladly followed.
Praise the Lord!
"Listen, you kings!
Pay attention, you mighty rulers!
For I will sing to the Lord.
I will make music to the Lord, the God of Israel. (Judges 5:1-3 NLT)
The Song of Mary
The song of Mary is a song of praise. (Lk 1:46-56) Mary declares the greatness of God, and her spirit rejoices with the news she has received from the angel Gabriel that she will give birth to the Son of God, the Son of the Highest- Jesus!
Mary responded, "Oh, how my soul praises the Lord.
How my Spirit rejoices in God my Savior! (Lk 1:46-47 NLT)
The Song of the Lamb
The song of the Lamb in Revelation is a song of celebration of God's judgement, power, and sovereignty! (Rev 15:1-4)
And they were singing the song of Moses, the servant of God, and the song of the Lamb:
"Great and marvelous are Your works,
O Lord God, the Almighty.
Just and true are Your ways,
O King of the nations.
Who will not fear You, Lord,
and glorify Your name?
For You alone are holy.
All nations will come and worship before You,
for Your righteous deeds have been revealed." (Rev 15:3-4 NLT)
The Song of Wendy
I was so inspired by these songs I decided to write my "Song of Wendy."
I encourage you to join me in singing (or declaring). Make up your own melody.
We praise You, Father of our Lord Jesus Christ, for Your faithfulness to Your Word. We praise You for all You have been doing in and through Your church, whom You love. You have begun a good work in us and will continue Your work until it is finally finished on the day when Your Son Jesus returns. [ii]
Father in heaven, we know how dearly You love us, Your church because You have given us the Holy Spirit to fill our hearts with Your love. Thank you for making this love for one another grow and overflow for one another and all people. [iii]
We thank You that more and more, the church of Jesus Christ is seeking You with our whole hearts, desiring to know You, Jesus, and growing in a more intimate relationship with You, Lord Jesus. [iv]
  Many are crying out daily to You, Lord Ps-Search me, O God, and know my heart; test me and know my anxious thoughts. Point out anything in me that offends You and lead me along the path of everlasting life. (Ps 139:23-24) As a result, Holy Spirit, You are working in our hearts, revealing unforgiveness, offenses, idolatry, all works of the flesh, and causing us to truly repent! We receive these convictions with joy and receive the forgiveness of Jesus and the cleansing of the Holy Spirit. Our hearts cry is, "less of me and more of You, Lord!" As a result of the work that You are doing in us, we are looking more and more like we belong to You, Father God-Your holy people, set apart from the world. All praise, honor, and glory to God!
There have been challenges, problems, trials, and even tribulations. You are teaching us to rejoice in these, seeing them from Your perspective. As a result, we have persevered, not losing heart and not giving up! The perseverance has been developing character-we are becoming more like You Jesus, and walking according to the Spirit. [v]
We give You praise! Faith is rising! The church of Jesus Christ is becoming stronger in the Lord, believing what You said Jesus, "My grace is all you need. My power works best in weakness." We are glad to boast about our weaknesses so that the power of Christ can work through us. More and more, we take pleasure in our weaknesses and in the insults, hardships, persecutions, and troubles that we suffer for Christ. For when we are weak, then we are strong! [vi]
Thank you for making us one in Christ and enabling us to keep the unity of the Spirit! We are maturing and growing in every way, looking more and more like You Jesus. You are making Your whole body fit together perfectly. As each of us uses the gift we have been given, it helps the other members of this body to grow so that this whole body is healthy and growing and full of love. We are a team! Praise the Lord! [vii]
So, we continue to pray for one another, asking You, Father, Jesus, and Holy Spirit, to enable us to live a life worthy of Your call. We pray that You may give us the power to accomplish all the good things our faith prompts us to do. We desire with our whole heart to honor the name of our Lord Jesus because of the way we live. It is only because of Your grace that this is made possible. [viii]
Amen!
Close
Whether we are alone or gathered together, let us sing with gratitude to God in our hearts.
Let the word of Christ richly dwell within you, with all wisdom teaching and admonishing one another with psalms, hymns, and spiritual songs, singing with thankfulness in your hearts to God. (Col 3:16 NASB)
I hope and pray that this will inspire you to write your song of praise to God!
"He who has an ear, let him hear what the Spirit says to the churches." (Rev 2:7 NKJV)
About the Author: Wendy Tolmie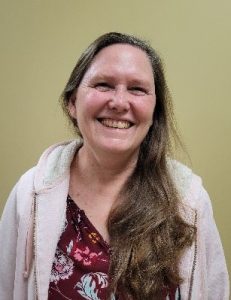 For the past 20 years, Wendy has been serving Jesus and has devoted her life, ministry, and work to seeing people come to know Jesus, be set free from strongholds and unforgiveness, be healed, and live victorious lives in Christ. Wendy believes that healing of the whole person (physically, emotionally, mentally, and spiritually) only comes through the power of the cross of Jesus Christ.
Having been through her journey of healing from depression, Wendy now lives, works, and ministers as a joy-filled follower of Jesus, serving Him in freedom and joy! She feels blessed to be able to counsel women, seeing their lives restored and transformed and God's calling on their lives being fulfilled.
_______________
Cover Photo by Chonlatee Sangsawang on Unsplash
[i] Acts 16:25-26
[ii] (Phil 1:6)
[iii] (Ro 5:5; 1 Thess 3:12)
[iv] (Jer 29:13-14; Phil 3:10)
[v][v] (Ro 5:3-4; 2 Co 4:1, 16; Gal 6:9; 2 Thess 3:13; Gal 5:16)
[vi] (2 Co 12:9-10)
[vii] (Eph 4:1-6; 11-16)
[viii] (2 Thess 1:11-12)