Author: Martin Elvidge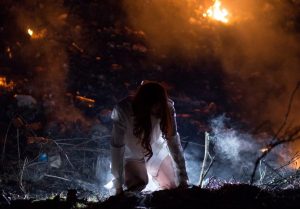 "Apocalypse Now," He said. I was quite taken aback. The speaker was the manager of Automasters Repair shop, where I paid an astronomical sum for repairs to the Ford pickup that had broken down.
He said it again "Apocalypse… now! You know: Fires, floods, earthquakes, volcanic explosions, wars, plagues, and now a pestilence. Has to be the Apocalypse – Now Eh?"
I mumbled something or other and left.
But it got me thinking. An apocalypse changes everything. An apocalypse cannot be controlled. An apocalypse carries us along like a tsunami. I saw that on TV. People are just carried away by a huge wave. That's how I felt, out of control—just being swept along, trying to keep my head above water.
Personal Apocalypse
Early in 2020, we accepted an invitation to join the Singing Waters Ministry center in Ontario, Canada. We were invited to live at the Singing Waters Ministry centre on fifty acres of forest. This opportunity was a great answer to prayer, but it would mean leaving everything behind in Australia. Family, friends, house, possessions, car and motorbike, ministry, mission, Church, and the International Training School we founded in 1996.
So we went home to Australia, sold everything, and booked our flights for March 24, 2020. A week before leaving, we moved into one room at our friend's tiny condo with six suitcases and two cats along with their travel crates. No way we were leaving our cats behind. They had been a source of joy and pleasure for seven years.
We sat waiting with two cats and six suitcases, staying with our precious friend Heather. She agreed to take us to the airport so we could fly to Toronto on March 24. Little did we know we would still be there five months later with no change in sight.
On March 22, Canada closed its borders because of the Covid19 pandemic, and our flights were canceled (cat travel, too!). We were devastated. Our goodbyes had been said. Our departure had been celebrated. There was no going back. We had signed away our registered Charity. We had handed over our Church to the elders we had raised up. Worst of all, I had sold our car and my motorbike. We were truly stuck! What was God doing?
To add insult to injury, we were locked down in Heather's condo because of the Covid protocols. The protocols allowed us one hour each day for exercise while wearing a mask, one hour each day at the supermarket standing six feet away from everyone else, and a visit to the doctor by appointment. Surely it would be over soon, and everything would be normal again? Unfortunately, an apocalypse is not quickly resolved, and as each month rolled into the next with no evidence of change. We just had to adapt to our circumstances as best we could.
Heather knew the area quite well and took us out walking to different places in the hour allotted for exercise. Who would have thought that the lockdown would motivate us to exercise every day for an hour and improve our fitness and mood? She took us for walks to the nearby Swan River and navigated an expedition to South Beach. We took her car to the parking lot at the South Beach Kiosk and enjoyed a swim when the sun was shining. It was beginning to feel more like a holiday than an apocalypse.
At home, we lived in close quarters to one another, learning how to interact, resolve problems and enjoy one another's company. We would pray together easily and share our interactions with Jesus in a very natural manner. After all, He was locked down with us and had much to say about that. He enjoyed our walks together and would point out beauty spots along the way. My favourite was a front garden planted and landscaped with Australian native species, which attracted all the local birds – goannas too (and probably a few snakes if I looked hard enough.)
What Apocalypse means
The word Apocalypse in Greek is conjoined from "Apoco" and Lipsis. Apoco means "to lift," and "Lipsis" is a veil. So the word apocalypse means "a lifting of the veil." Now when you lift the veil, you discover what's underneath. You discover what's hidden. I discovered that God is hidden in every situation and circumstance. Even in the apparent tragedy of Covid 19, God was waiting to reveal himself. I've learned that even in these difficult circumstances, He is waiting to show himself strong to us.
Rom 8:28  So we are convinced that every detail of our lives is continually woven together to fit into God's perfect plan of bringing good into our lives, for we are his lovers who have been called to fulfill his designed purpose.
 The Nightmare is over
Then at the right time, God's time, everything fell into place. We received permission to leave Australia for Canada (provided we don't go back again for five years). We received permission to enter Canada with a work permit for Singing Waters. Air Canada started flying freight again (cats included), and Emirates began flying directly from Perth to Toronto via Dubai.
Close
Maybe you are feeling stuck or out of control. Maybe you also feel swept along trying to keep your head above water. Maybe you feel helpless, weak, and powerless to save yourself, lost and hopeless. Maybe it seems as if God has abandoned you. I know how you feel. I assure underneath it all, God is faithful, always working to bring good into your life. I encourage you to walk with Jesus and tell Him how you feel. He wants to talk to you. He will talk to you while you are walking. He likes to reveal himself. You'll be surprised. It will be an apocalypse for you as it was for me.
About the Author
 Martin and Sheila Elvidge
Martin was ordained Priest in the Anglican Church of Australia in 1980. He led three different congregations with his wife Sheila until their departure in 1994 to found an independent charismatic evangelical church: "The Well of Blessing"). In 1996 Martin and Sheila founded The Open Hand Inc, a non-profit charity offering a variety of prayer ministries to help and heal the hurting in Western Australia.  Global Mentors was established in 2003 to carry this ministry to the world. They have ministered in Canada, the USA, Switzerland, The Philippines, Singapore, Hong Kong, Malaysia, Hong Kong, Fiji, India, and other parts of Australia. They have traveled extensively with Catch the Fire Mission.
Martin and Sheila have been trained by John Wimber (Vineyard), VMTC (Anne White), John and Paula Sandford (Elijah House), Chester and Betsy Kylstra (Restoring the Foundations), Dr. Ed Smith (Theophostic Ministry), Art Zeilstra Cornerstone (Canada), Jim Wilder (Thrive), Karl Lehmann (Immanuel), Fr Andrew Miller (Heartsync) and other Internationally recognized Ministries.
In 2019 Martin and Sheila accepted an invitation to take up residence and ministry at Singing Waters Ministry centre in Orangeville, Ontario, where they teach, train, and conduct prayer ministry. They carry and minister the good news of Isaiah 61.
Martin has a degree in Social Sciences and Welfare Practice, a Diploma in Theology, a Licentiate in Family and Marriage Counselling, and a Masters in Spiritual Theology. Sheila is a qualified School Teacher who specializes in teaching adult refugees English as a second language.