Christian Healing Ministries Teachers and Worship Team
TEACHERS AT SINGING WATERS MINISTRIES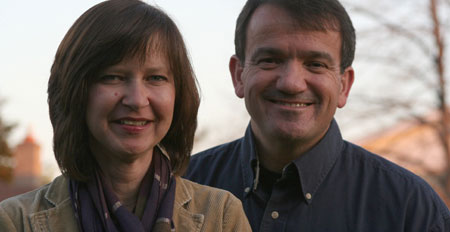 Barry & Anneliese Adams
Barry Adams lives in St. Catharines, Ontario, Canada with his wife Anneliese and their 3 children, Kristin, Stephen and Candice. Before entering into full time ministry in 1997, he spent 19 years working in the newspaper industry where he developed a passion to see the gospel creatively communicated in various forms of media.Barry entered into full time ministry in March 1997, serving as an associate pastor at Westview Christian Fellowship, a Mennonite Brethren Church located in his hometown of St. Catharines. In June 1998, while at a men's retreat in North Bay, Ontario, Barry had a powerful encounter with the love of God as a Father through the ministry of Jack Winter and James Jordan. This new revelation of God's love was the catalyst that brought about the Father's Love Letter message. In January 1999, Barry shared the Father's Love Letter multi media presentation as a sermon illustration as part of his message on the extravagant love of the Father. In November 1999, the Father's Love Letter video was released and a new website (www.FathersLoveLetter.com) was launched. In March 2000, Barry and Anneliese founded Father Heart Communications in order to facilitate the growth of this new ministry.


Terry & Melissa Bone
Terry and Melissa are the founders of Identity and Destiny Ministries.
Terry serves as a leadership consultant and coach and has a growing ministry to Pastors and Leaders in select overseas locations.
Melissa is soon to be ordained and also is a certified Labour DOULA for pregnant women which gives her great opportunities to bring the Family Blessing in practical ways.
Their passion is to invest in the emerging generation of Leaders.

Scott & Hilary Dalton
Scott and Hilary have a passion to release people into their true identity and destiny in Christ.  In 2001 God launched them into an itinerant teaching and restoration ministry called "Rivers of Grace".  They speak and minister internationally, across denominations.  Their ministry places a high value on both the Word and the Spirit.  Through strong biblical teaching and dynamic Spirit-empowered ministry, they have seen many people healed, equipped and anointed to live God's plan for their life.  Hilary also has a healing and deliverance ministry, "Sunrise Ministries".  During prayer ministry appointments, many people have received freedom in Christ.  For more information see www.riversofgrace.ca

Russ Irwin
Russ Irwin is a former pastor, church planter, professor of clinical psychology and international speaker, Russ has a passion to see believers come into a radical, real and transforming encounter with the healing heart of God. His dynamic and prophetic teaching style will cut through and challenge heart issues with revelation, wisdom and truth. As an active member of a local church, Russ models the Fathers love, through his family, his relationships and his commitment to operating through relationship and team.

Peter & Heather Jackson
Relationship, integrity and commitment are the words associated with the ministry of Peter & Heather Jackson. They have planted churches, occupied the position of Senior Pastor, lived in community and generally functioned as leaders in the Body of Christ for over 30 years.  They were the founding directors of the Toronto Airport Christian Fellowship School of Ministry. Since 1997 the Holy Spirit has anointed them to spread and nurture revival with a focus on the Fatherheart of God. Their ministry has brought healing to people in many nations and is best expressed by Isaiah 61, "beauty for ashes, oil of joy instead of mourning and a garment of praise instead of despair." They travel internationally, speaking at conferences and local churches as well as hosting Father Heart Encounter Retreats. Peter and Heather have three children and five grandchildren.

Mary Audrey Raycroft
Mary Audrey has been pastor of Equipping Ministries and Women in Ministry at Toronto Airport Christian Fellowship (TACF) since 1994. She is an exhorter and teacher, and has ministered God's heart of renewal internationally. Gifted in encouraging believers, Mary Audrey teaches both large and small groups in homes, church seminars, retreat settings and conferences on such topics as who you are in Christ, the gifts of the Spirit, breaking hindering yokes, and a variety of other themes designed to bring people into walking in the Spirit with wholeness and fruitfulness. Ministering to a wide variety of denominations, her heart is for unity in the body of Christ. Since 1984, she has been in a trans-denominational teaching and equipping ministry, working with churches, Bible schools, and pastors in North America, the Caribbean, Asia, Australia, Europe, South Africa, and the United Kingdom. She is the founder of Releasers of Life, a cross-denominational group called to awaken, equip and release women into their full potential in the body of Christ through conferences, retreats, and seminars. She has written teaching manuals and a book called, Releasers of Life – Discover the River Within. "My desire is to see Christians realize their potential in the Lord, and step out in faith to find their place in the body of Christ."

Mark & Patti Virkler
Mark has received a Master of Theology from Miami Christian University and a Ph.D. from Carolina Christian University. He has also been included in "Who's Who in the World" many years since 2000, and "Who's Who in American Education" in 2006. Patti has received a Master of Ministry and Doctorate of Ministry from Vision International University. Their focus has never been on degrees, but simply growing to maturity in the Lord. Degrees are viewed as incidental accomplishments and signposts along the road of life which can sometimes open up people's hearts and minds to hear, listen and learn what they have to share.